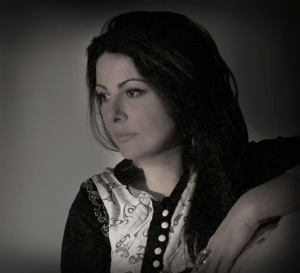 Krista Nassi is best known for her installations and paintings. Her paintings are evocative with an impressionistic approach, truly reflecting the character and sensitivity of the artist. The wrenching subjects of her installations are thought provoking while reflecting the issues of modern times. Krista Nassi is a Persian-American artist who was born in 1970 in Tehran, Iran. Her work can be found at Tehran's museum of modern arts as well as a selected number of galleries throughout Europe. After graduating from high school, Krista entered Tehran's Institute for graphic design and architecture, where she received a diploma in graphic design. She later received a Master of Art degree in painting from the prestigious University of Art, in Tehran. Krista has resided and participated in arts exhibitions in Italy, France, Austria and Iran. In 2002, she entered the " Triennale Internationale D'Art Contemporain " in Paris, where she received an honorary diploma for her paintings. Also in 2002, she participated in the " Site + Sight exhibition " in Singapore, and later received an award from the Lassalle.Sia Art University for her installation. In 2001, she participated in the 10th Asian Art Biennial in Bangladesh, and received the Gold Medal, and an honorary diploma from the Shilpakala University of Art in Bangladesh. Today, Krista resides in Los Angeles where she is pursing her love of the arts, and continues to create work that is unique in style, and reflective of the modern times. She has shown her art in California since 2005.
Awards and Certifications
2015 Creative Quarterly 41, The Journal of Art and Design Competition, New York, NY.

2004 Was awarded the "Best Art instructor of all universities" in Tehran, by the Center for academic Art and Science research of Iran.
2002 Honorary Diploma from "Triennale De Paris" for participation in "Triennale Internationale D'Art Contemporain", Paris, France.
2002 Special Award from the Lassalle.Sia Art University for participation in Site + Sight exhibition, Singapore.
2001 Gold Medal, Honorary diploma, & Special award from the Shilpakala university, for participation in the Art Biennial, Bangladesh.
1998 Honorary diploma from Tehran university of Art for participation in a specialized painting exhibition, Tehran, Iran.
1992 Honorary diploma from Center of Art (sora) for participation in drawing and graphic exhibition, Tehran Iran.
-